OA SEA Concluded OLI with Teaching Joy of Salvation to Raise Mission Leaders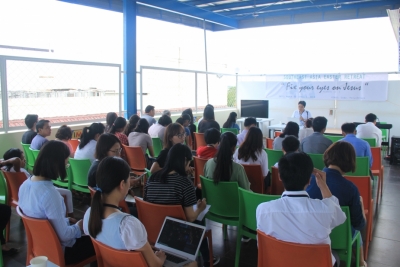 Olivet Assembly of Southeast Asia ministers were encouraged as Olivet Leadership Institute (OLI) concluded with abundant grace in Manila, Philippines. Participants came from churches from around the region to study and learn about leadership and salvation.
The OLI has been a way to teach the meaning of salvation as means to raise leaders who will not waver in their ministry even in times of challenges in the mission. The OLI emphasized the importance of Romans 1-8 which clearly defines the doctrine of salvation in three stages of justification, sanctification and glorification.
The program provides Bible lectures and internship training with aims to raise new leaders and staff for various ministries as well as local church mission.
The participants were exhorted to review their teaching plans in the hope of passing down this joy of salvation which serves to move hearts to respond by joyfully participating in building God's Kingdom.
It is with great anticipation that the participants will teach the doctrine of salvation well by putting efforts to study and teach about it regularly. Their joy of salvation will be passed down to many awaiting hearts which leads to their eventual commitment and participation to build God's Kingdom in their respective nations.
With the overflowing grace, some of the participants shared their reflections:
"Thank God for preparing this retreat and OLI for me, I really gained much grace. Before I came to here, I wanted to know more God's will about my future. When I came I saw the theme. I really hope in my life I can fix my eyes on Christ. Hope my life can be fixed on Jesus always and see His glory. I was also very touched by the serving of the people here. Thank God he let me see Jesus' serving toward me."
"The journey of Jesus Christ lived here on earth will always be my reminder of what great love he had for us. He already knows beforehand he will be arrested, betrayed and crucified, but he continued to follow the will of the Father God. We must remember that our hardships, problems, and sufferings are incomparable to the life he offers. We must also share unconditional love towards our brothers and sisters. Let this good news spread to everyone."
"Jesus was truly ready and focused fully on the mission He received from the Father God, which was to go to the Cross, to suffer and die for the sake of humanity for the lost sinners. Jesus' death should be witnessed and testified for the lost sinners to admit that only Jesus could save them by truly repenting of their sins. God alone is to be glorified for all the wonderful things He has done for us, especially for Christians as the source of all wonderful blessings. Thus, Christian authenticity and authority to be God's children shining faith as light for the world."
"Many times, I tend to avoid burdens and suffering. The same goes for my faith. I just wanted to receive but not giving out. But I appreciate this opportunity given. This is the time for my faith to grow and to rely on God more."