OLI in Malaysia: Inherit Dream for God's Kingdom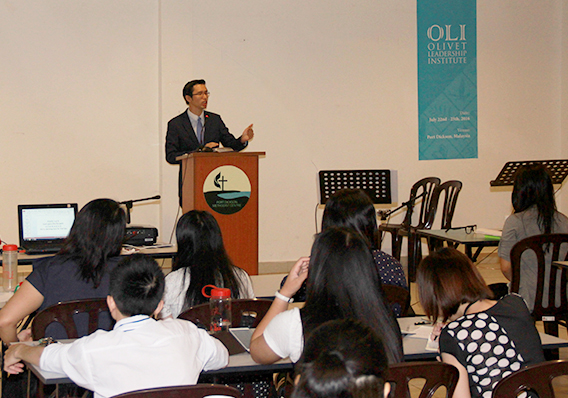 Leaders from Southeast Asia nations gathered in Malaysia for the regional OLI that commenced on the evening of July 22nd, with a heart yearning to inherit the dream for God's Kingdom.
During the Opening Service where the message entitled 'Nothing will be Able to Separate Us from the Love of God' was delivered from Romans 8:31-39, the leaders from Cambodia, Indonesia, Laos, Malaysia, Myanmar, Philippines, Singapore and Vietnam were exhorted to examine their relationship with God, which is the source of strength that enable them to carry the Great Commission entrusted to them.
They were exhorted, "We should never shake in believing that God loves us. Even in times of difficulties, we need to exercise our faith that God is with us and He listens to every word of our prayer. Let us reorganize our faith during this training as faith comes from hearing the message. With such earnestness towards the Word, for sure, God will work greatly in our midst as we seek to move forward His Kingdom on the foundation on His love."
The Opening Service is subsequently followed by the first lecture on 'Prayer' and a graceful time of prayer.
In addition to the lectures, participating OLI trainees were encouraged to fellowship with other leaders and missionaries on the field at every opportunity towards gaining an understanding the challenges faced in different SEA nations and expanding their perspective of involving in mission expansion in the region.
The four-day leadership training will continue on to the next day with lectures on Romans 9-11 and Christ-like Leadership in addition to sessions on interview of missionaries and testimonies of committed members who decided to devote their life for full-time mission recently, with a heart to encourage OLI trainees to inherit the faith to participate in the work of expanding God's Kingdom.
It is with hope that the dream for God's Kingdom will be planted deeply in the hearts of the young leaders as they seek to be stirred by the Word and fellowship with their ministry mentors throughout the leadership training.