OLI SEA Begins in Thailand, Challenges Hearts to Testify Power of the Gospel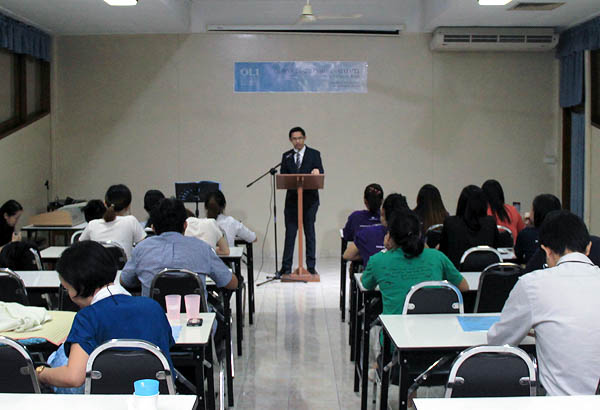 In anticipation to raise leaders with a firm conviction of their salvation in Jesus Christ while living out their commission to reach the lost passionately in their nations, OLI Southeast Asia commenced in Bangkok, Thailand on the evening of March 24.
During the Opening Service where the message entitled 'I am Not Ashamed of the Gospel' was delivered from Romans 1:14-17, the leaders from Cambodia, Indonesia, Laos, Malaysia, Philippines, Thailand and Vietnam were guided to examine their purpose of attending the training, which is to rekindle their passion to share the Gospel on the basis of their joy in knowing the precious gift of salvation that they received in Christ.
They were exhorted, "Walking this path of faith, time and time again we will face persecutions and rejections to the Gospel that we preach. How then can we not be shaken, but yet continue to preach forth the Gospel boldly? On one hand, it is because we are continually being overwhelmed by the joy of salvation that overflows in us, that it compelled us to share the Gospel, to repay the debt of love which we "owe" the many in our nations who have yet to know Christ."
"On the other hand, it is because that we are not ashamed of the Gospel that we preached, for it is the very Gospel that we have personally experienced ourselves, that we can testify its power that saves and changes lives forever. Sharing the Gospel is about retelling the stories of God's active work of salvation in our lives. This is why we are attending OLI this time. It is to be moved by this gift of salvation that we have already received through the sacrifice of Christ, and regain our first love and passion to testify this Gospel powerfully in the place that God has called us to."
Following the service, the leaders gathered for a graceful time of prayer, as they united their hearts to pray for the work of Holy Spirit throughout the training and the condition of their hearts to be ignited by the Gospel through the lectures and workshops.
The five-day leadership training will continue the next day with lectures on the book of Romans about 'Sin' and 'Justification' in addition to workshops on 'Evangelism' and 'Teaching'.
It is with great anticipation that the participating leaders will come to a deeper understanding of the salvation that they have received in Christ throughout the course of OLI, which will rekindle their passion for the Gospel, onwards proclaiming Jesus Christ and the Kingdom of God boldly in their respective nations.