Olivet Leadership Institute Training Program in Indonesia Concludes with Determination to Make Disciples of All Nations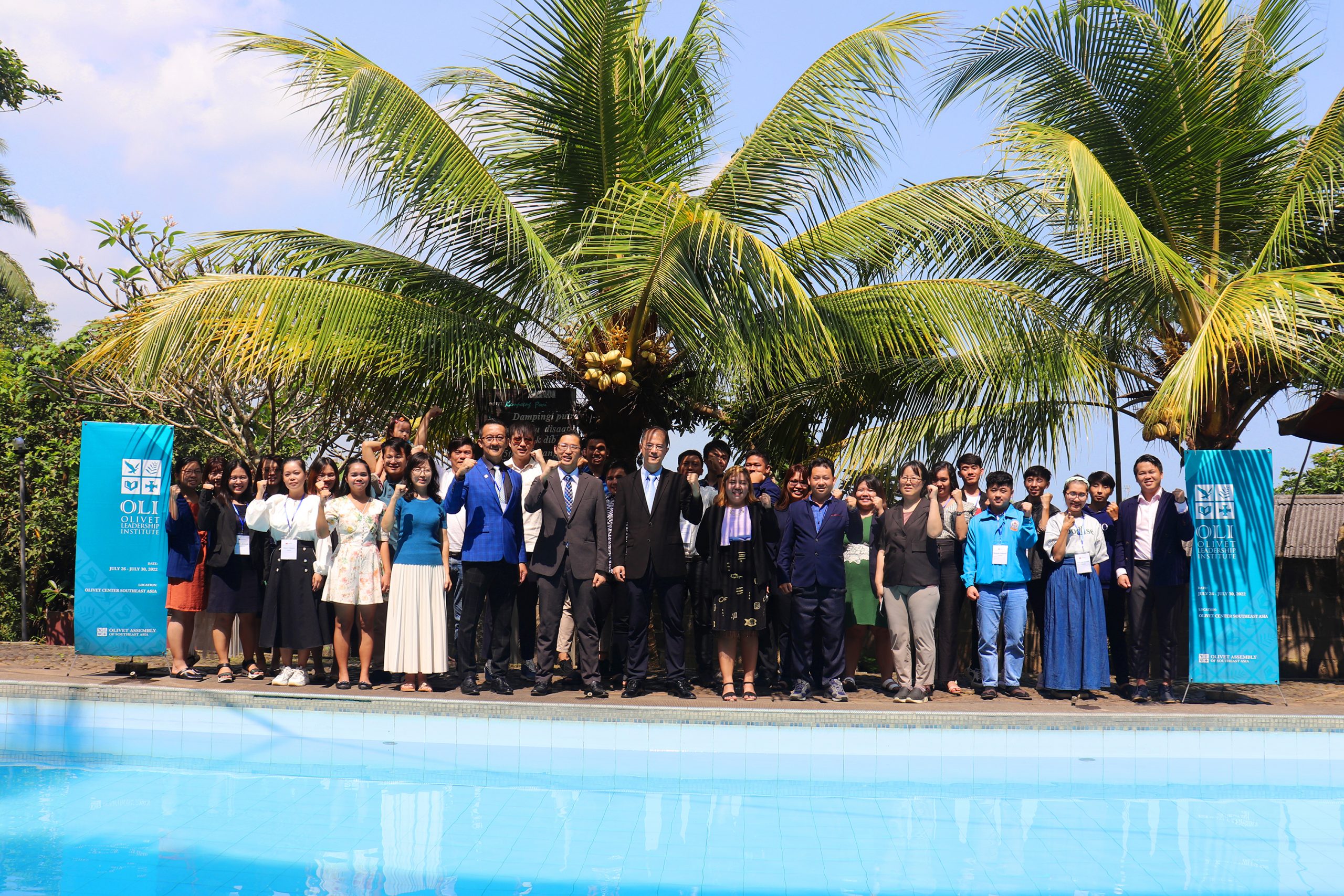 After five full days of intensive training in Romans 9-16 lectures and in various ministry skill workshops, the first onsite Olivet Leadership Institute (OLI) Leadership Training held in the Olivet Center Southeast Asia concluded in full of grace with a closing service on July 31, 2022.
During the service, Pastor Tertius Liew, the General Secretary of Olivet Assembly SEA delivered the sermon from Matthew 28:16-20, titled, 'Go and Make Disciples of All Nations'. The sermon emphasized on the immense grace of God who gave the Great Commission to a group of people who doubted Him, but God still gave His certain promise that all disciples will be given authority of the Lord and they will be never be left alone in the walk of faith.
Pastor Liew spoke deeply of experiencing the presence of the Lord and to experience His power in the midst of carrying out the Great Commission. The trainees were encouraged, "Treasure opportunities to make stories with God that challenges your faith. Do not be confined in your own situations. God used the insufficient people – even the ones who doubted."
The verses on 1 Corinthians 1:26-29 were shared as well where the grace of God is accentuated to be the reason for the calling of many to participate in the Kingdom's work. Though many may judge and think that God is foolish for calling the weak, 1 Corinthians 1:25 was highlighted to illustrate that even the foolishness of God is indeed still infinitely wise than human wisdom. In knowing that it is by grace that one is called to make disciples, the trainees should not regret the great calling of God but to humbly accept it with faith because His calling is irrevocable (Romans 11:29).
With a clear understanding on the standards expected of the disciples, the trainees were then exhorted not stay still but go actively to exercise their God-given spiritual gifts to build His Kingdom. They were reminded to 'baptize' their Bible students not only through water baptism, but also in the Holy Spirit as they are to participate in the path of dying and living again every day in identification with the Lord's Cross and resurrection. Above all, they were urged to teach their students not merely the knowledge of the Bible, but obedience to His Word as the motivation for them to grow in their path of discipleship.
Concluding his sermon, Pastor Liew exhorted the trainees to deeply realize the Great Commission given to them by faith, and to continue to be discipled themselves in studying the Word of God daily, as they set out to actively make disciples of all nations, starting by making concrete steps towards it following their imminent return to their respective home countries.
After the training, one attendee shared, "It's so much more elegant to get knowledge from the OLI training. This helped me to comprehend the journey of faith to the Kingdom of God, we can do various things as long as God is at the center. If we focus on what we can accomplish, it is minimal. Deep inside our lives, there is a light that cannot be extinguished. Some call it hope, others call it bravery, but it is a light of our faith that has always been there. This training helps me realize not to give up and to keep digging just a little bit deeper daily. I also learnt in numerous areas, from establishing a vision for our ministry, budget, evangelism, how to pray, family, and how to develop a teaching manual. It's such a gracious week when God allows the Holy Spirit to lead us to what we need in our next steps in our walk of faith. We must remain open to the wonderful things that God has provided for us, and when we stray, we must return to what defines us, which is our Lord Jesus Christ's side."